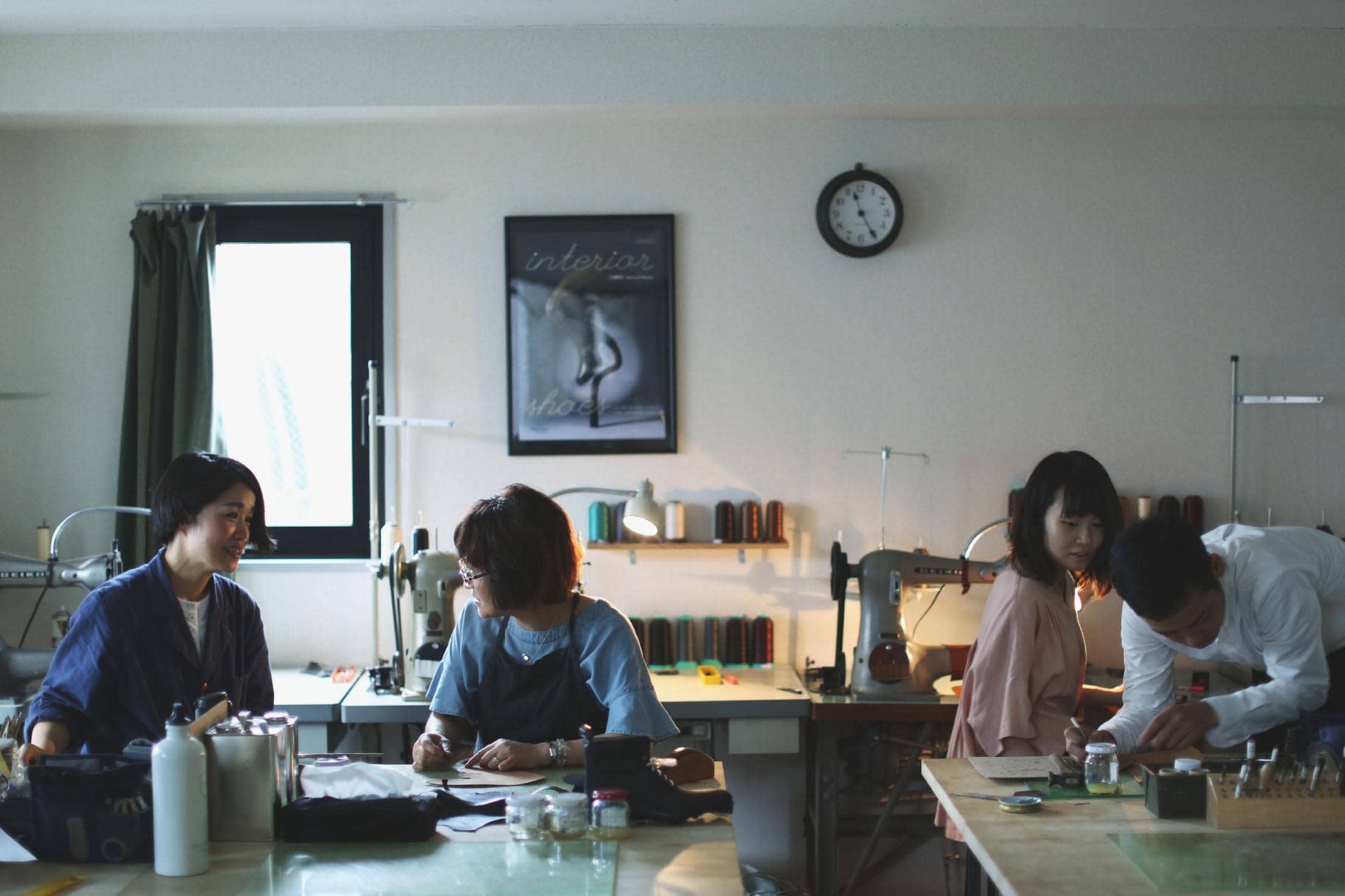 STUDENTS
現在、教室に在籍する生徒は40名以上。関東はもちろん近年はアジア、 ヨーロッパそしてアメリカから生徒が集まっています。その中から数名をご紹介します。
We currently have an enrollment of more than 40 students. Students come from Kanto region (Japan), Asia,
Europe and U.S.A. in recent years. We would like to introduce some of them to you.
雨宮里奈 

Rina Amemiya

都内靴メーカーで勤務。靴の理解を深め、技術を向上させる為に通う。「三澤さんが作った靴の作品を目にして今まで自分が持っていた靴の概念が覆されて、率直に、これどうやって作ってるんだろう?!凄いカッコいい!と思いました。靴の根っこ、基礎となる知識と技術があるからこそ作れる奇抜なデザインを見て、自分も絶対その域に達するぞっ!と日々奮闘しています。」

She works at a shoe manufacturer in Tokyo. The reason to join the class is to improve skills through deeper understanding of shoes. Student's comment: When I first saw the shoe work by Mr. Misawa, it suddenly changed my concept of understanding shoes. "How did you make it? It's super cool!" I thought. His unusual design was created from learning basic techniques and knowledge about shoes. I have been striving to get to his level everyday.

川﨑功大 

Koudai Kawasaki

大学に通いながら靴職人を目指し勉強中。「靴作り、難しいです、、、自分は手先が器用だと思っていましたが、通用しないことが多いですね。でも楽しいし、先は長いですが時間をかけてしっかり学んでいきたいです!」

While he goes to University, learns shoemaking to become a shoemaker. Student's comment: Shoemaking is difficult. I thought I was skillful with my hands but I have faced difficulty. But I enjoy it and I have a long way to acquire the skill, so I want to learn steadily over time.

松野敬 

Takashi Matsuno

ライフワークとして靴作りを始めて10年。
「先生は国内はもちろん、海外の靴作りにも精通していて知識も豊富ですね。いろいろ通いましたがこの教室にたどり着きました。」

It has been 10 years since he started shoemaking as his lifework. Student's comment: The instructors are acquainted with domestic and overseas shoemaking, who have rich knowledge as well. I had been to many shoemaking schools before, finally I discovered this class.

Svetlana Yachnaya

I wanted to challenge myself and grow in my career. Learning shoemaking is allowing me to approach design in a new way, considering all step of production. The skills I will gain through my tudy and the new friends I have made were definitely worth moving across the world for.

大倉かおり 

Kaori Okura

普段は会社員として働きながら、趣味として靴作りを始める。
「時間はかかりましたが、デザイン、型紙から作り始めた靴がだんだん完成に近づいていくのが楽しくてウキウキしながら通っています!」

She works as office worker, started shoemaking as hobby. Student's comment: It took a lot of time for shoemaking but I am pleased and excited to see that my shoes are getting nearer to be completed; I started from design and also pattern making.

是永真奈 

Mana Korenaga

現在大学2年生。体験コースを受講中。
「作っている時間は集中しているので1日があっという間ですが、家に帰ってから毎回身体が痛いです。靴作りがこんなに大変だと思いませんでした。」

She is in her second year of University study, and has been joining Trial course. Student's comment: I concentrated on making shoes during class and every class passed by like a flash. I found that I have sore muscles after going home. I have never imagined shoemaking is such hard work.

李鍾明 

I Jonmin

靴職人を目指し韓国から日本へ移住。「元々靴が好きだったのですが いつの日か靴を作れるようになりたい!という思いが強くなっていました。三澤さんの素敵な靴と古典的な靴作りを集中してじっくり学べることに満足しています。」

To be a shoemaker, he moved to Japan from South Korea. Student's comment: I originally like shoes."I want to make shoes by myself some day", this will has grown stronger, gradually in my mind. I am happy with Mr.Misawa's marvelous shoes and being able to learn traditional shoemaking carefully with concentration.

トー・チェン・ヤウ 

Tor Cheng Yao

シンガポール出身。ロンドンの大学在学中に靴と出会い、現在はイギリスブランドのセレクトショップを展開する渡辺産業で働きながら靴作りを学んでいる。「先生は経験豊富で、世界各国を自分たちで作った靴を履いて旅をしています。 彼らは私の経験を素晴らしいものにしてくれ、いつか自分の靴工房を持つという夢に向かって私を刺激し続けます。」

From Singapore. He discovered the shoes world when he studied at University in London. While he is working at WATANABE & CO.,LTD., which is a select shop providing UK brands, he currently studies shoemaking. "The teachers are well-experienced and have themselves been on their own shoe making journey in different parts of the world. They have made my experience an amazing one and continue to inspire me towards my dream of having my own workshop one day."
GRADUATES
卒業後は、自身のお店をオープンする方、靴業界で活躍する方、 そして海外で活躍する方など様々です。その中から数名をご紹介します。
After graduating from our class,one student opened a store,
another student is active in the shoe industry. We would like to introduce some of them to you.